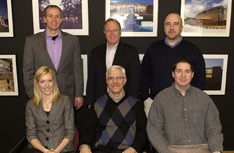 As Bergland + Cram embarks on its 57th year of providing architectural and interior design services, the firm announces a change in leadership.
Ownership is transferred to key staff led by Scott Smed, AIA, who acts as Managing Principal.  Randy Cram, AIA, has transitioned from his role as President to that of Senior Architect.
Smed joined the firmin 1980 and serves on the board of directors.  Current board members also include Kenneth Wind, AIA, LEED AP and Douglas Foreshoe, AIA.  They are joined by new Principal Andy Meyer, AIA, LEED AP BD+C.
Scott Borcherding, IIDA, and Kristy Sagdalen King, Assoc. AIA, have also been promoted to Principals with the firm.