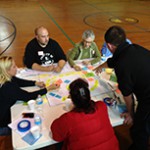 Do you remember why you got into architecture?  Was it your love for shop drawing review?  Late night meetings?  The smell of old plans disintegrating on your desk?
While there are many necessary tasks in our profession – the opportunity to design and manage a project from conception to reality continues to be a primary motivator for many of us.
As a mid size firm, Bergland + Cram relies on and encourages individual staff members to plan, lead, and collaborate with one another every day.  We currently seek to hire an architect in training or registered architect with 5 or more years of experience who is eager to join a dynamic workplace and community.  Our next ideal team member will be self-motivated to work independently and within a group, charged with direct oversight of design and project management.  Experience in healthcare projects and changing plotter paper is a definite plus.  Revit proficiency is a requirement.
Please email or mail your cover letter and resume/portfolio to our brave leader as listed below.  Relocation assistance available.
Bergland + Cram
Attn: Scott Smed
1002 E State Street
Mason City, IA 50401
scotts@berglandandcram.com