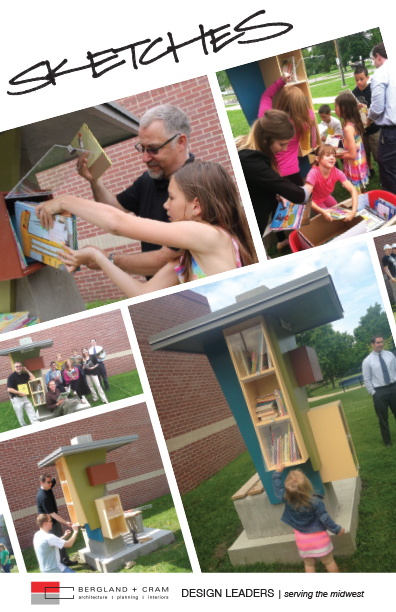 During the summer of 2014, Bergland + Cram partnered with Hoover Elementary in Mason City, IA to design and build a Little Free Library (LFL). B+C began the process by speaking with school children about their thoughts on books, libraries, and ideal reading spaces. The firm explored schemes and refined a design concept that became much more than the traditional box on a post. The end result is a custom, kid-scaled structure which houses books at various levels and has a built-in reading bench.
"When Principal Barbara Wells approached us to assist with this project, we brushed up on the concept since it was relatively new to us," said Senior Project Manager Joe Anderson. "After a little research, we decided that such a great sharing amenity for our local school system deserved to be more than just an exchange. It should be a destination for the school and neighborhood to interact. It was also a chance to put down our pencils and get our hands dirty with swinging hammers, welding, and pouring concrete."
One year later the library is still going strong. "It's exciting to see students riding their bikes and stopping here to check out the latest available books," said Principal Wells. "I recently talked with two students and one of them shared that she likes to take books home to read to her brother."
Because the library has been so well received, the district is exploring options to build more at other schools.
For more information or to locate a LFL near you, visit littlefreelibrary.org.