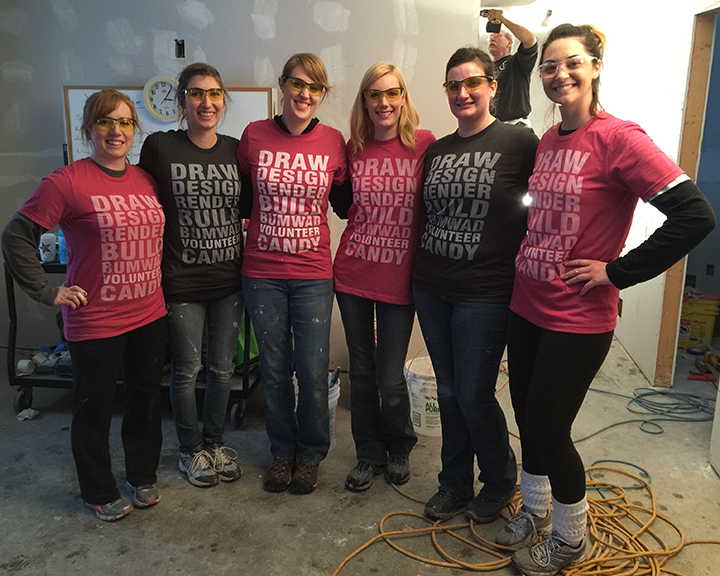 The ladies of Bergland + Cram got out of the office recently to experience the flip side of architecture and design….CONSTRUCTION!
We donned our safety goggles and ventured to Clear Lake to spend a day working on the Habitat for Humanity house for the Gerhardt family. While the weather outside was frightful (first snowstorm of the year), the drywall finishing inside was so delightful (thanks to some serious space heaters). We learned taping and mudding techniques and made a huge dent in the walls and ceilings. Figuratively, not literally of course – we want to be invited back!
Bergland + Cram believes in the investment of time and talent to build up our community and raise awareness for causes we believe in. Habitat for Humanity of North Central Iowa provides home ownership to area families in need by building safe, decent, and affordable housing. Construction of Habitat homes relies on the help of volunteers of all backgrounds and experience levels. Rick Wyborny, on site supervisor, does a great job of teaching a variety of skills on site.
As of 2015, our local Habitat for Humanity has completed homes for 45 families and five home repair projects throughout a six county region. Contact them if you would like to try your hand at swinging a hammer for a good cause. Find out more here.
"Volunteering is rewarding and this task in particular was very therapeutic," says Dana Thomas, Interior Designer with B+C. "We might have had a bit of a kink in our necks at the end of the day, but we all agree it was so worth it!"
It's always great to get out from behind our desks and have a hand in shaping a space, in contrast to drawing and 3D modeling back at the office. We look forward to more hands on adventures in the field!