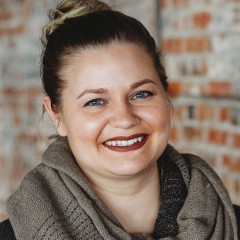 Project Manager Cally Niess of Bergland + Cram partnered with NIACC Building trades this year to design and build a one of a kind Tiny Home of her own.
Cally is transitioning her lifestyle to minimalist. In her journey of finding a home after graduating college, she came across the Tiny Home idea. The thought of Tiny Homes being affordable, yet unique housing intrigued her.
"I wasn't excited about buying a home, it just seemed like something I needed to do because that's what everyone my age was doing." Said Cally, "Then it hit me, why am I doing what others are doing? I have always marched to the beat of my own drum, and this shouldn't be any different."
In September 2017 NIACC Building Trades began taking applications for custom tiny homes. Cally applied and a few short weeks later she was signing the dotted line and the wheels started turning.
When Cally took to designing her tiny home, she stripped the typical residential home down to its core programs of sleeping space, bathroom, kitchen, hobby space, dining room, living room/relaxation, general storage and closet.
In exploring these program elements, Cally identified which could be consolidated to share space. In bringing general storage and living space together, the living room will be built on an elevated platform to house totes of items such as seasonal clothing, craft/art supplies, etc underneath.  The half-height wall that encloses the storage, acts as the anchor to a flip up table that will be used for dining and a work station for hobbies.  The closet and sleeping space is consolidated in a sense where the steps going up to the lofted bed is being used as a closet to hold all clothing.
"It took a lot of dissecting and imagination of what I wanted my space to feel like. It's fun to see a space shrink – yet still be able to fit my needs." Said Cally.
Continue to follow Cally's journey to Tiny Homeownership with her blog: https://live-little.com/