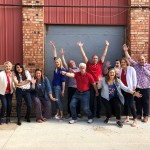 We're excited to meet you at the ISU Design Career Fair on Feb. 20th! Principals Andy & Kristy will be ready to chat you up about career opportunities at B+C and take a look at your work. If you need a little nudge to get the conversation going, we offer a few (very specific) suggestions below.
Andy:
• What kind of plane(s) do you fly?
• What variety of pumpkin was the top seller at your pumpkin patch?
• What's so special about Bomgaars licorice?
Kristy:
• What position do you play on your volleyball team?
• What's the most interesting bird you've traveled to see?
• What's your go-to fountain pop combo?
We're always happy to talk shop about design as well! Please stop by and introduce yourself.