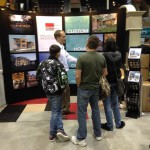 Come see us! Kristy Sagdalen King, A-AIA and Andy Meyer, AIA will be holding down the fort at the Rochester Home Show this weekend – looking to team with folks who desire a home, not just a house.
Kristy is a B+C principal, idea and planner extraordinaire, brand cheerleader, designer with style, your new BFF and a real go-getter.
Andy is also a B+C principal, registered architect, LEED Professional, bona fide pilot, official family guy, obvious overachiever, and all around swell guy.
Stop by and talk to us about residential design or anything really. We'd love to see you at booth #606.