CURRENT OPENINGS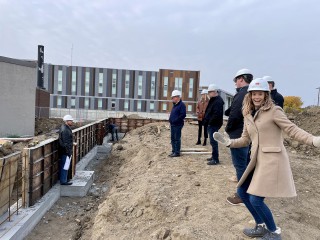 SUMMER 2023 ARCHITECTURE INTERNSHIP
Our studio is made up of a diverse group of individuals with a variety of skills and strengths, focused on the single purpose to Make Architecture Happen!  Currently we look to grow and expand our team with individuals that have a genuine drive to join this purpose and serve our commercial, residential, healthcare, and restoration clients.  As a mid-size firm, we encourage all team members to plan, lead, and collaborate with one another every day.
We are currently seeking a Summer 2023 Architectural Intern to work alongside our more experienced staff on all stages of large and small projects.  This internship position will provide opportunities to be exposed to many different aspects of the profession while contributing to the success of actual projects.  You will benefit from a mentoring relationship with several professionals within the firm and will participate alongside staff in professional development, project critiques, client meetings, and jobsite visits.
The ideal skills required for this position are a sincere interest to learn within a collaborative team environment, a great attitude, and a proactive approach to communication.  Working knowledge of Revit Architecture is a plus.
Bergland + Cram is located in Mason City, the largest community in north central Iowa and just minutes away from the active recreation town of Clear Lake.  Our region has been recognized statewide for a community on the move with countless awards recognizing placemaking, business, and tourism developments.  We are part of a growing, thriving region with much to offer in entertainment and restaurants, tech and outdoor recreation scenes, breweries, and arts and cultural venues.
Our company goals and culture focus on Optimization, Design Leadership, Developing Business, Purposeful Production, and Staff Development.
Please email or mail your cover letter and resume/portfolio.  Please indicate INTERN POSITION in the subject.
PROJECT DESIGNER
We are currently seeking a Project Designer with 0-3 years of experience who is interested in joining a dynamic workplace in an expanding downtown environment.  This position is ideal for the candidate eager to learn and work within a group of varied professionals, involved directly with design from day one.  The Project Designer will work side by side with Project Managers and firm Principals to Make Architecture Happen!  From concepts and schematics, to development of projects and construction documents, Project Designers work on several different project types at any given time.  You will have the opportunity to be involved with projects from start to finish, as well as assisting and collaborating with all individuals within our mid-size firm to serve commercial, residential, healthcare, and restoration clients.  The ideal skills for this position are an initiative to learn, a proactive approach to written and verbal communication, and a working knowledge of Revit Architecture.
Please email or mail your cover letter and resume/portfolio.  Please indicate TEAM MEMBER in the subject.
Bergland + Cram
Attn: Kristy Sagdalen King
115 S Delaware Ave
Kristy Sagdalen King @ Kristysk@berglandandcram.com